Degas: Passion for Perfection review – a voyeur's pursuit of precision
This critical profile of the impressionist painter focuses on his obsession with technique – and his problematic personal life
Andrew Pulver
The Guardian
Tue 6 Nov 2018
Having chalked up films on Manet, Monet and Renoir, the excellent Exhibition on Screen series now moves on to the fourth great pillar of French impressionism: Hilaire-Germain-Edgar De Gas, AKA Edgar Degas. Based around the exhibition at the Fitzwilliam museum in Cambridge a year ago (which transferred to Denver Art Museum), this critical profile covers the bases we have come to expect from these film-makers: glowing gallery dolly shots, informed curatorial comment and a nicely packaged biography.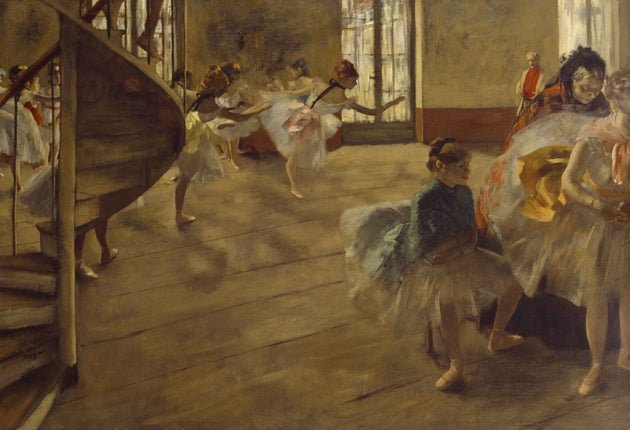 The subtitle – of the original show, as well as the film – was picked to show Degas' differences from the traditional idea of the dashed-off, hazy-visual nature of impressionism. With his admiration of the classical canon, his insistence on mastering drawing technique, and his refusal to paint outdoors, much is made of the case to treat Degas as an outlier in the movement.
On the other hand, his determination to break down surface polish, his attempt to freeze-frame his pictures' narratives, and his unremitting repetition of voyeuristic subject matter put him very much at the heart of it. Added to which, his network of relationships – if not actual friendships – with other impressionist luminaries, outlined in the selection of letters included in voiceover show that, artistically at least, he was far from isolated.
The problem with Degas lies in his personal and political life. Very much on the wrong side in the Dreyfus affair, Degas' outspoken anti-semitism ought – by modern standards – to make him persona non grata, let alone a mass-consumption art figure. The film-makers don't shy away from the topic, but dwelling on it at longer length would inevitably change the nature of their film. Perhaps that could be the subject of a follow-up.