Bob Dylan early draft for A Hard Rain's a-Gonna Fall shows telling changes
Never-before-seen manuscript up for auction at Sotheby's shows Dylan's restless revising as song originally had far more insistent ending
Mark Brown
Monday 24 August 2015

Bob Dylan originally contemplated climbing six purple mountains rather than stumbling on the side of 12 misty ones and the ending to one of his greatest songs was far more insistent than it later became.

The fascinating changes he made to his 1962 anti-war anthem A Hard Rain's a-Gonna Fall can be revealed as Sotheby's auctions a never-before-seen early manuscript.

The two neatly typed pages represent a remarkable and exciting document, according to Gabriel Heaton, Sotheby's books and manuscripts specialist.

It would have been intended as a version to show others. "You can see it was not originally intended as a working draft," Heaton said. "It was meant to be a final version of the song but when he starts reading it again, he clearly is unhappy with it and starts reworking, starts revising … more ideas start spilling out of his brain."

The draft being sold reveals that Dylan's original opening was: "Where have you been, my blue eyed boy/ Where have you been, my darling young son." In the final version, recorded in December 1962, it became: "Oh, where have you been, my blue-eyed son/ And where have you been, my darling young one."

The next lines were also changed. Instead of "I've climbed up six purple mountains/ I've crawled on 10 crooked highways", it later became: "I've stumbled on the side of 12 misty mountains/ I've walked and I've crawled on six crooked highways."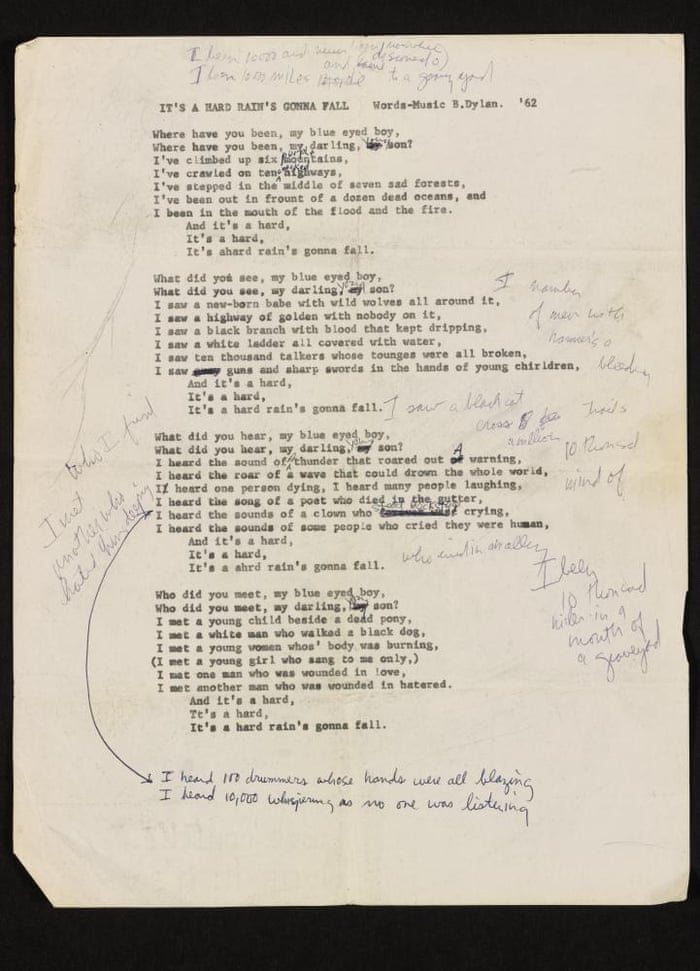 Dylan was only 21 when he wrote A Hard Rain's a-Gonna Fall, in which he warned of the impending apocalypse.

The version being sold comes from the heart of the Greenwich Village folk scene. "It was the kind of place where you could write this crazy poem, show it to someone who would go, 'Wow, this is amazing,'" said Heaton. "It was an environment which fostered this kind of creativity."

It would have been written in an office – described as "a hide-out room" – above the legendary Gaslight folk club on a typewriter belonging to Dylan's friend Hugh Romney, or Wavy Gravy as he is better known.

Dylan clearly discarded the draft and it came into the possession of Romney's then wife, Elizabeth, and has been passed down through the family since then.

Heaton said the manuscript shone a fascinating light on Dylan's creative processes and restless spirit, on how he was always trying to change, revise and improve. "You can really see him creating here, you can see just how easily these amazing lines seem to have come to him … they just spill out. What a mind!"

The song, described by Rolling Stone magazine as "the greatest protest song by the greatest protest songwriter of his time", has often been associated with the Cuban missile crisis – an idea helped along by Dylan, who has both claimed it and denied it in subsequent interviews.

The reality is that it was written before the crisis and was first performed at Carnegie Hall in September 1962, a month before the world moved to the brink of nuclear war.

Dylan's question and answer template for the song was taken from a traditional Scottish folk ballad called Lord Randall, whose repeated lines were: "O where ha you been, Lord Randall my son?/ And where ha you been my handsome young man?"

The manuscript includes memorably evocative lines which Dylan scribbled down as they occurred to him, including "I heard 100 drummers whose hands were all blazing/ I heard 10,000 whispering as no one was listening."

Interestingly, Dylan decided against the ending he wrote in this early draft, in which the narrator's prophetic tone takes on a moral imperative. Instead of "gonna", he wrote more insistently: "And it's a hard,/ It's a hard,/ It's a hard rain must fall."

The newly discovered manuscript is one of three known to exist. One is in the Morgan Library in New York and another, the final handwritten working manuscript, was sold at Sotheby's New York last year for $400,000 (£254,000).

The manuscript will be sold at Sotheby's rock and pop sale in London on 29 September.
http://www.theguardian.com/music/2015/aug/24/bob-dylan-early-draft-for-a-hard-rains-a-gonna-fall-shows-telling-changes