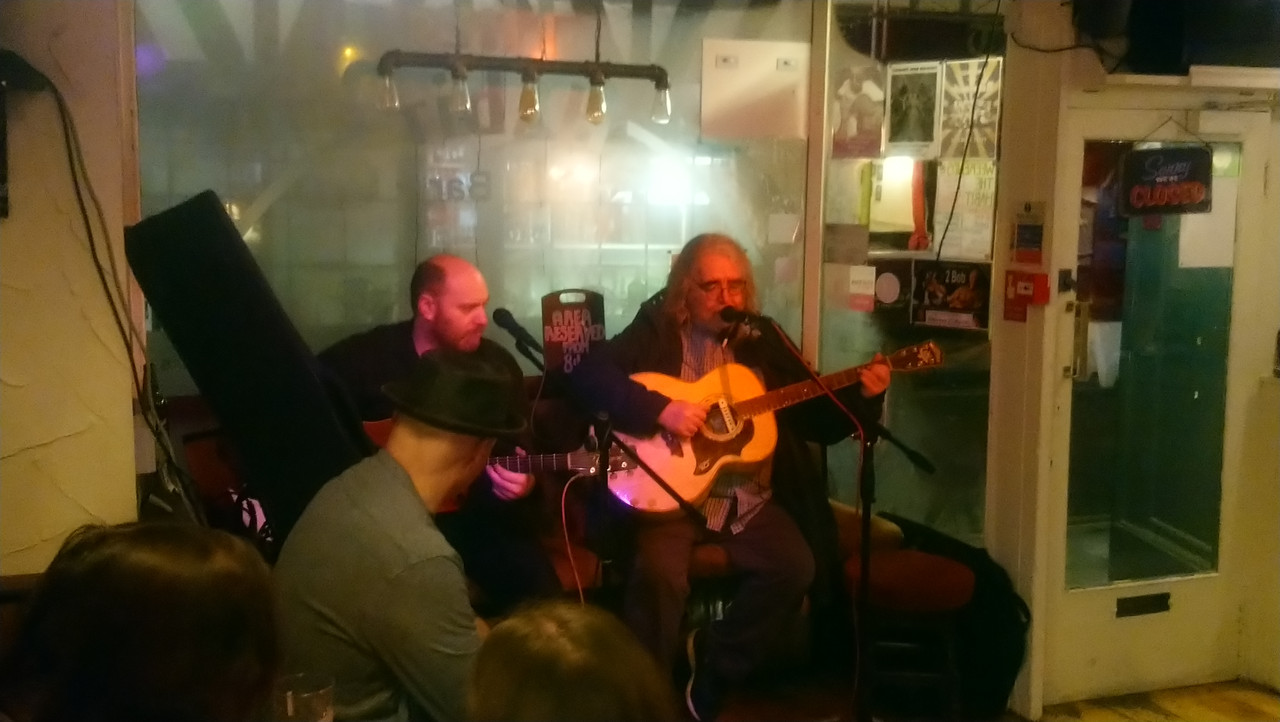 Ron Elderly: -
Autumn Leaves
Dedicated Follower Of Fashion
Da Elderly: -
Oh Lonesome Me
Never Let Her Slip Away
The Elderly Brothers with Tim Williamson (harmonica): -
Bring It On Home To Me
Mailman Bring Me No More Blues
Medley: High Heel Sneakers/It's All Over Now
It turned out to be one of those really special Habit open mic nights. Initially quiet, but heaving by 9:30. What an eclectic mix of music and styles!

Having encouraged local picker Dave over the last few weeks, we finally persuaded him to get up and play - he surprised us with Stephen Stills' Manassas song Johnny's Garden and Graham Nash's Prison Song from the album Wild Tales 1974.

Harmonica maestro Tim was supported by our host Simon on guitar and they played superb versions of the blues standard Sitting On Top Of The World and the Jerry Leiber/Mike Stoller classic Kansas City, with everyone joining in on the "Hey hey hey hey" and "Bye bye bye bye" parts.

There was a Viking invasion at about 10:30 (only in York! There's a festival on at the moment). One sang acapella.....the oldest known song in old Welsh. Another brute sang acapella too.....a song with the refrain Troll Hammering.

We had an unexpected visit from our previous host Dave who sang duets with current host Simon (see picture above): a self-penned tune Marianas and a couple of standards, Summertime and Georgia On My Mind. Excellent stuff!

The Elderly Brothers closed out the show aided and abetted by Tim on harmonica. As soon as we finished there we cries for "more" and we continued unplugged for the best part of an hour.

What a night!!!