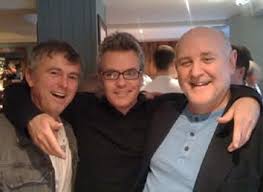 It could have been all so different. Henderson and Kelly reuinte with Ian Ravenscroft, who fans of the duo will surely recall was Henderson's original partner in the successful musical comedy double act, Henderson and Ravenscroft, which took the world by storm from 1920 to 1928.
The following year, while touring with an off-off-off-Broadway musical version of
Desire Under the Elms
in Buenos Aires, Ravenscroft was stricken with malaria. Showing characteristic compassion, loyalty and financial impecunity, Henderson vowed to stay with him in the city while the show went ahead without them both - until that fateful evening two weeks later when he visited a nightclub and saw a down-on-his-luck comedian, Paul Kelly, stumbling through his act.
Henderson explained: "I felt sorry for the guy. There he was on stage, a quivering wreck in a white linen suit, clutching his pint of beer close to his chest as if it was his only friend. I knew he was just a step away from blowing up balloons and twisting them into shapes resembling popular political leaders of the day, but I could see he definitely had talent. I mean, he was only young. Still is. I thought I could nurture him, train him, develop him. Remake him in my own image, if you like. Mind you, at the time, I had no plans to ditch my old partner; I figured I could make some dough managing this Kelly guy, but once I told him the audience could only understand Spanish, everything seemed to click. He invited me up on stage with him and after sharing a buck and wing and a few dirty jokes about Clara Bow, we really connected; it was like we were related or something."
Ravenscroft still remembers the night Henderson brought Kelly to the hospital to say goodbye. "I thought I'd died and gone to heaven. That white suit made him look like an angel... then he put his arm around Jimmy and they left the room. The fucker. Next thing I know, they're the toast of Broadway, London and Paris and they're making movies for Hal Roach. Hal bloody Roach! I could only get a booking at Glasgow Empire understudying Derek Guyler in Charlie's Aunt! And let me tell you, the audiences were cold up there. Guyler told a blue joke about the Battle of the Boyne and we had to escape out of the toilet window. They still owe me ten bob and a Clark's brogue, size 10, which I lost when some woman grabbed my leg."
Today, Ravenscroft stresses he isn't bitter, although if you ever see him, he'd like you to buy him one.