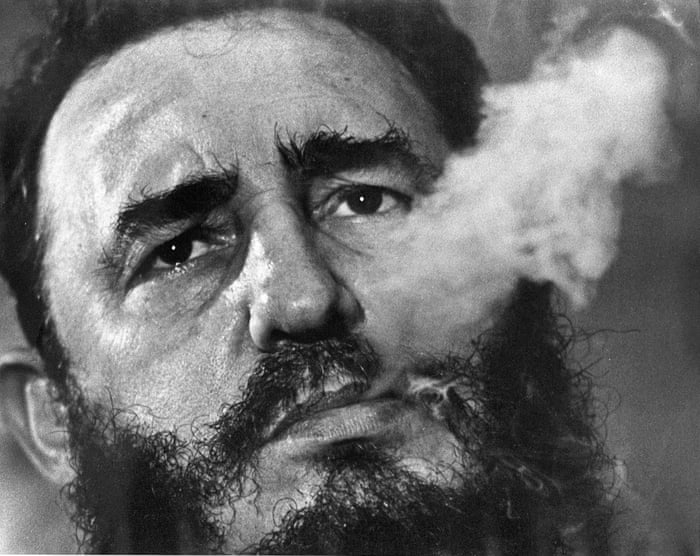 Cuba's revolutionary leader, Fidel Castro, dies aged 90
The comandante overthrew Batista, established a communist state and survived countless American assassination attempts
Rory Carroll
The Guardian
Saturday 26 November 2016

Fidel Castro has died at the age of 90, bringing an end to an era for the country, Latin America and world.

The revolutionary icon, one of the world's best-known and most controversial leaders, survived countless US assassination attempts and premature obituaries, but in the end proved mortal and died late on Friday night after a long battle with illness.

Given the former president's age and health problems, the announcement of Castro's death had long been expected. But when it came it was still a shock: thecomandante – a figurehead for armed struggle across the developing world – was no more. It was news that friends and foes had long dreaded and yearned for respectively.

Castro's younger brother Raúl, who assumed the presidency of Cuba in 2006 after Fidel suffered a near-fatal intestinal ailment, announced the revolutionary leader's death on television on Friday night.

"With profound sadness I am appearing to inform our people and our friends across [Latin] America and the world that today, 25 November 2016, at 10.29pm, Fidel Castro, the commander in chief of the Cuban revolution, died," he said.

"In accordance with his wishes, his remains will be cremated."

Raúl Castro said that further details of the posthumous tribute would be released on Saturday, concluding his address with the famous revolutionary slogan: "Onwards to victory!"

Castro survived long enough to see Raúl negotiate an opening with the outgoing US president, Barack Obama, in December 2014, when Washington and Havana announced they would move to restore diplomatic ties for the first time since they were severed in 1961.

After outlasting nine occupants of the White House, he cautiously blessed the historic deal with his lifelong enemy in a letter published after a month-long silence.

The thaw in relations was crowned when Obama visited the island earlier this year. Castro did not meet Obama and days later wrote a scathing column condemning the US president's "honey-coated" words and reminding Cubans of the many US attempts to overthrow and weaken the communist government.

As in life, in death Castro was deeply divisive. The announcement of his death was widely greeted online with celebration and condemnation of a "cruel dictator" and his repressive regime.

Others mourned the passing of "a fighter of US imperialism" and a "charismatic icon".

In Miami, home to the largest diaspora of expatriate Cubans, people took to the streets celebrating his death, singing, dancing, and waving Cuban flags. As pots and pans were banged in jubilation, there were chants of "Cuba Libre!" (Cuba is Free) and "el viejo murió" (the old man is dead). Previous false reports of Castro's death have triggered cavalcades of cheering, flag-waving revellers.

Cuba's Communist party and state apparatus has prepared for this moment since July 2006 when Castro underwent emergency intestinal surgery and ceded power to his brother, Raúl, who remains in charge.

Fidel wrote occasional columns for the party paper, Granma, and made very occasional public appearances – most recently at the 2016 Communist party congress – but otherwise kept a very low profile.

Despite the mixed reactions to his death, one thing all could agree on was that this extraordinary figure had left his mark on history.

More than half a century ago, his guerrilla army of "bearded ones" replaced Fulgencio Batista's corrupt dictatorship with communist rule which challenged the US and turned the island into a cold-war crucible.

He fended off a CIA-backed invasion at the Bay of Pigs in 1961 as well as many assassination attempts. His alliance with Moscow helped trigger the Cuban Missile Crisis in 1962, a 13-day showdown with the US that brought the world closer to the brink of nuclear war than it has ever been.

The US had long counted on Castro's mortality as a "biological solution" to communism in the Caribbean but, since officially succeeding his brother in 2008, Raúl has cemented his own authority while overseeing cautious economic reforms, and agreeing the momentous deal to restore diplomatic relations between Cuba and the US in late 2014.

By Raúl's own admission, however, Fidel is irreplaceable. By force of charisma, intellect and political cunning the lawyer-turned-guerrilla embodied the revolution. Long before his passing, however, Cubans had started to move on, with increased migration to the US and an explosion of small private businesses.

His greatest legacy is free healthcare and education, which have given Cuba some of the region's best human development statistics. But he is also responsible for the central planning blunders and stifling government controls that – along with the US embargo – have strangled the economy, leaving most Cubans scrabbling for decent food and desperate for better living standards.

The man who famously declared "history will absolve me" leaves a divided legacy. Older Cubans who remember brutal times under Batista tend to emphasise the revolution's accomplishments. Younger Cubans are more likely to rail against gerontocracy, repression and lost opportunity. But even they refer to Castro by the more intimate name of Fidel.

Since largely vanishing from public view he has been a spectral presence, occasionally surfacing in what became a trademark tracksuit, to urge faith in the revolution. It was a long goodbye that accustomed Cubans to his mortality.

Latin America's leftist leaders will mourn the passing of a figure who was perceived less as a communist and more as a nationalist symbol of regional pride and defiance against the "gringo" superpower.

Fidel Castro's funeral and cremation are expected to attract numerous foreign heads of state, intellectuals and artists.