Anthony Valentine with Edward Woodward in Callan: Heir Apparent
Anthony Valentine obituary
Urbane stage and screen actor admired for his versatility, charm and alluring voice
Toby Hadoke
Thursday 3 December 2015
Anthony Valentine, who has died at the age of 76, was a distinguished actor with urbane features and a fine voice. His two best-known television characters showcased his versatility – he had a controlled, chilly stillness as Major Horst Mohn in Colditz (1974), yet was dashing and suave as the eponymous hero of Raffles (1977).
In the second series of Colditz, his by-the-book German officer was a thorn in the side of his honourable Kommandant (played by Bernard Hepton) and a cunning warder to the escape committee members David McCallum and Robert Wagner. Cold, unflinching and at times ruthless, Mohn was, in Valentine's hands, a three-dimensional character despite being the least sympathetic German officer in this laudably even-handed series, a co-production between the BBC and Universal Studios.
A similar bearing and authority were necessary when portraying the cricket-loving gentleman thief AJ Raffles, this time augmented with a debonair charm, wit and playfulness that made the character immensely popular. This Yorkshire TV version of the short stories of EW Hornung, first published in 1899, began with a one-off episode in 1975 before being launched as a 13-part series in 1977.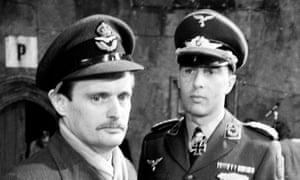 Born in Blackburn, Lancashire, Valentine was quickly besotted by films, frequenting the local Empire cinema every Wednesday with his mother, Mary, who was especially keen on musicals, and again at the weekend when his father, William, returned home from working in London. His earliest ambition was to be Gene Kelly, and after his impromptu performances of dance routines at home his father suggested that he undergo some training.
When he was six the family moved to Chiswick, west London, and Anthony was educated at Acton county grammar school. He showed a particular aptitude for tap dance, attaining his gold medal at 11. Having played Robin Hood in an amateur production, he was approached by talent scouts to appear in the film No Way Back (1949), earning more for his two days than his father did in a week.
Taken on by the children's agent Valerie Glynne, he secured his first professional stage engagement in the Mazo de la Roche play Whiteoaks, in Bromley, in 1949. As a child actor he had recurring roles on TV in Emil and the Detectives (1952), The Children of the New Forest (1955), Rex Milligan (1956) and as both the young Lord Mauleverer and then the form captain Harry Wharton in Billy Bunter of Greyfriars School (1955-57), the popular series starring Gerald Campion as Frank Richards's cheeky schoolboy. In 1958, when Laurence Olivier took the title role for ITV's Play of the Week in Ibsen's John Gabriel Borkman, Valentine played his son, Erhart, over whose future the family is divided after it is brought down by the banker Borkman's financial speculation.
After supporting roles in the epic An Age of Kings (1960) – a bold production of Shakespeare's history plays from Richard II to Richard III, in which he played 10 parts over 13 episodes – and the popular science fiction serial A for Andromeda (1961), he began to get guest star billing on series including the school drama This Man Craig (1967). Landing the role of the secret service agent Toby Meres in Callan (1967-69, 1972), the gritty and uncompromising series starring Edward Woodward as a terse, damaged operative doing unsavoury jobs for a shady government agency known as The Section, Valentine played an upper-class bully who would happily endanger his colleague when ordered.
Other prominent television roles included Codename (1970), The Donati Conspiracy (1973), the TV movie The Dirty Dozen: The Fatal Mission (1988), regular appearances in Body & Soul (1993), with Kristin Scott Thomas, the customs and excise drama The Knock (1994-96), the Amanda Burton vehicle The Commander (2005-08) and a four-month stint (2009-10) in Coronation Street as George Wilson, the grandfather of Peter Barlow's son, Simon.
He was a guest star in a string of popular programmes, including three episodes of Dr Finlay's Casebook (1969), two interlinked Z Cars stories (1972), Space: 1999 (1975), Hammer House of Horror (1980), Robin of Sherwood (giving a haunting turn as the ominous master of the dark arts Baron de Belleme, 1984-85), Minder (1979, 1980, 1983), The Casebook of Sherlock Holmes (as Baron Gruner in The Illustrious Client, 1991, with Jeremy Brett as Holmes), The House of Eliott (1991), Waking the Dead (2001) and New Tricks (2005).
He appeared less frequently on the big screen but he gave a good account of himself as the betting shop owner Joey Maddocks in Performance (1970), with Mick Jagger, and had decent roles in To the Devil a Daughter (1976) and Escape to Athena (1979).
He made his West End debut aged 16 in the comedy Anniversary Waltz (Lyric, 1955) and subsequently appeared in the premiere of Arnold Wesker's Chicken Soup With Barley (Belgrade Theatre, Coventry, and then the Royal Court, 1958), in The Shifting Heart (Duke of York's, 1959) with Leo McKern, The Platinum Cat (Wyndham's, 1965) with Kenneth Williams, and in the original cast, with Tommy Steel, of Half a Sixpence (Cambridge theatre, 1963).
In the 1970s came No Sex Please, We're British (Strand, 1971), Sleuth, with Marius Goring (St Martin's, 1972), a revival of Hans Andersen with Steele again (London Palladium, 1977), Art (Wyndham's, 2000) with Peter Egan and Chris Langham, and The White Devil (Lyric, Hammersmith, 2000).
Valentine directed several productions at the Mill at Sonning, Berkshire, including his own play, The Waiting Game (1998), a thriller set in a Mediterranean country ravaged by war. Also at the Mill he staged Neil Simon's The Odd Couple (2005), I Ought to Be in Pictures (2010) and California Suite (2012); and an adaptation of Henry James's Washington Square, The Heiress (2008).
He became patron of the Thwaites Empire theatre, Blackburn, in 2005. His authoritative, often alluring voice was heard on several advertisements, notably for Fry's Turkish Delight – "Full of eastern promise" – as well as on Operation: Mindcrime (1988) and Operation: Livecrime (1991), concept albums from the American progressive heavy metal band Queensrÿche on which he played the evil Dr X.
In 1982 he married the actor Susan Skipper, with whom he had worked on The Dancing Years (1976), Raffles and a number of stage productions. She survives him.
• Anthony Valentine, actor and playwright, born 17 August 1939; died 2 December 2015
http://www.theguardian.com/tv-and-radio/2015/dec/03/anthony-valentine