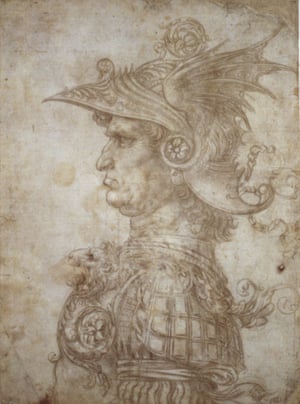 Bust of a Warrior, c 1475 by Leonardo da Vinci
Drawing in Silver and Gold review – a stupendously rich gathering of great art
British Museum, London
Some of the finest drawings in history were done using silverpoint. A new exhibition is proof that this artform is ingenious, magical – and will stop you in your tracks
Jonathan Jones
Tuesday 8 September 2015
The equivalent of an iPad drawing app in Reformation Germany was a leather-bound sketchpad with its pages coated in paste. A thin metal stylus fitted snugly into a clasp on the spine of the book. Using this stylus, you could draw delicate sketches wherever you happened to be.
A surviving example of this clever artists' technology is on display in the British Museum's engrossing new exhibition. It belonged to the 16th-century painter Hans Baldung Grien, who is notorious for his perverse fantasy scenes of witches' sabbaths. In his sketchpad, though, he drew faces and places and everyday life. It's like looking into a visual diary drawn yesterday, but it is nearly 500 years old.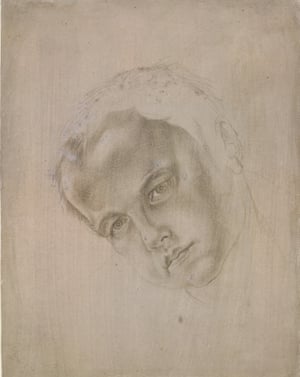 Albrecht Dürer's Head of a Boy, inclined to left, c 1505-1507
Moments of disarming spontaneity hijack this show and stop you in your tracks. Near the little sketchbook is a portrait of a sad young man whose immediacy and intensity are so modern, so of the moment. It was drawn by Albrecht Dürer in about 1505-07. Using a silverpoint nib, Dürer was able to build up the youth's face in shaded detail. Yet he left his ear and hair as a loose sketch. The effect is disturbing – perhaps this turbulent face, fraught with feeling and isolated in space, is that of someone torn apart by spiritual and religious anxiety in a Germany that was soon to explode in the Reformation.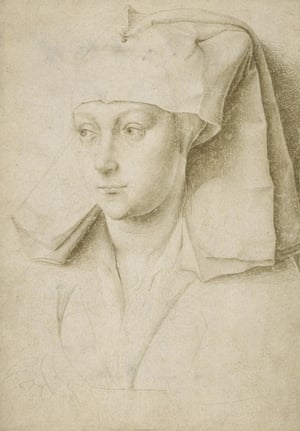 Portrait of an Unknown Young Woman, c1435 by Rogier van der Weyden

Centuries later, in 1934, after Hitler had come to power, Dürer's modern heir Otto Dix took his silverpoint gear into the countryside and drew a gentle pastoral view. But sinister clouds are obscuring the sun, and at the heart of the valley before us is a Jewish cemetery. Dix, who had already been sacked from his teaching job by the Nazis for his angry depictions of war, sees the future in uneasy silverpoint.

But Drawing in Silver and Gold is not only about German art. It is an exhibition with many paths, byroads and meanders – a stupendously rich gathering of some of the greatest drawings in history. You can explore how Jasper Johns hid a sperm whale in a drawing of the Queen and Prince Philip, or discover the ornate album in which the Renaissance art critic Giorgio Vasari assembled one of the first ever European collections of drawings. But before that, you have to work out what a silverpoint drawing actually is.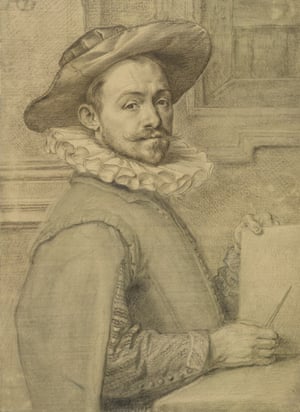 Self-portrait holding a copper plate, c1589 by Hendrik Goltzius.
I'd seen scores of drawings in this exquisite medium, and even held them in my hand, long before I knew how they were made. No one would ever guess from looking at these marvellous sketches that to make them is such an ingenious, almost magical process. This is art as alchemy. The artist first has to create a special potion from boiled-down animal bones, then paste it thickly on to paper before taking a stylus of soft metal (silver and gold are preferred for their softness, not their expense) and applying it to the "prepared" surface. Molecules of silver are rubbed off and stick to the paper, resulting in a drawing made of precious metal.
Rogier van der Weyden (1400-1464), Head of the Virgin. Metalpoint, on prepared paper, mid-15th century.
A film explains it all, and then you can wallow in the ethereal results. Leonardo da Vinci was one of the first artists to see the full potential of silverpoint. His drawing of a battle-hardened warrior, posed in furious profile with his armour sprouting dragon wings, animal heads and swirling vortex patterns, exploits to sublime extremes the medium's capacity to create very precise lines, delicate suggestive flourishes and soft meadows of shade. He also saw how it could be used for quick sketches in the open air. His life drawing of a horse swaying its head from side to side is a case in point: Leonardo shows multiple positions of the restless head in a blur of motion.
Avigdor Arikha, Anne pregnant, 1969
There are enough silverpoint drawings by Leonardo in the Royal Collection to fill this exhibition easily. The curators have selected choice examples, along with masterpieces by artists from Petrus Christus to Bruce Nauman from many of the world's best museums. In straitened times, when all too many "blockbusters" turn out to be taken solely from museums' own collections, this is a deeply researched exhibition studded with true rarities borrowed with great difficulty. It's a chance to see some spookily exact portraits by Hans Holbein the Elder – the father of the Hans Holbein who worked for Henry VIII – that turn art history on its head. It turns out that Hans Holbein the Younger got all his ideas from his dad. The cool, accurate, frank portrait style that Holbein the Younger is so famous for was invented by Holbein the Elder. The son merely perfected it.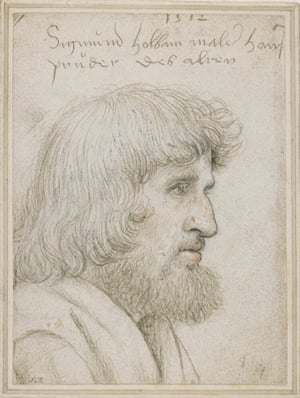 Hans Holbein the Elder's Portrait of the Artist's Brother Sigmund, 1512.

Perhaps the greatest miracle of silverpoint is its durability. Many of these drawings are so perfectly preserved that they could have been made specially for the show. In about 1450, the north Italian artist Pisanello drew two monkeys, using shading that seems to show every soft hair on their thin bodies and long tails. The monkeys have their backs to us, like sad zoo animals on a rainy day. Their appearance is preserved forever but their thoughts are private.

I have never seen an exhibition that so joyously reveals the beauty and mystery of the art of drawing.

At British Museum, London, from 10 September to 6 December.
http://www.theguardian.com/artanddesign/2015/sep/08/drawing-in-silver-and-gold-review-british-museum
http://www.britishmuseum.org/whats_on/exhibitions/drawing_in_silver_and_gold.aspx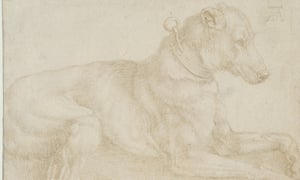 Albrecht Durer, Resting dog, circa 1520
Mysteries of metalpoint explored in British Museum exhibition
First large-scale exhibition on technique used by artists including Leonardo, Dürer and Raphael arrives from Washington in September
Mark Brown
Wednesday 1 July 2015
They rank as some of the most admired drawings in the world yet many people will be blissfully unaware of how artists including Leonardo, Dürer and Raphael made them: with a metal stylus over an abrasive surface often made from carbonised bone.
The mysteries of a technique called metalpoint are to be explored in an exhibition covering 600 years of art history, the British Museum will announce on Wednesday.
Lucas van Leyden, Two nude allegorical figures, circa 1515
Remarkably, it is the first large-scale exhibition on the subject. "Like many great ideas, when someone comes up with it you slap your forehead and think: why hasn't this show been done before?" said Hugo Chapman, the museum's keeper of prints and drawings. "It just hasn't, so I'm very glad that this will be the first time."
The show arrives in London from the National Gallery of Art in Washington in September.
Metalpoint drawings are normally made with a silver or mostly silver stylus used on roughened ground in a way that ensures a trace of metal is left on the surface.
"In my wicked schoolboy days you used to be able to draw on a newly painted wall with an old 10-pence piece," said Chapman. "It's the slight roughness of the wall and metal … it just drags off a little bit of the metal on to the surface."
The show will bring together more than 100 examples of the best metalpoint, or silverpoint, from collections around the world. One of the finest is in the British Museum's own holdings: Leonardo's remarkable and detailed A Bust of a Warrior, which is so accomplished that experts believe it was a demonstration piece, showing the world his brilliance as a newly independent master.
Susan Schwalb, Strata No, 407, 2005
The exhibition will explore metalpoint's fitful history up to its use by contemporary artists including Jasper Johns, Bruce Nauman and Susan Schwalb.
The technique first became popular in the 14th century, although its precise origins remain obscure. "There will be Italian historians who say it definitely started in Italy," said Chapman. "Whereas the Germans and the Dutch would say it definitely started north of the Alps … who knows?"
Italy became particularly keen on it in the 15th century, used in studios for training and preparatory studies. And then, with the death of Raphael in 1520, "it dies out. Italian artists want to do big things, they want a lot of contrast between light and shade, so it disappears never to rise again. This incredible flowering and then extinction," said Chapman.
It continued in northern Europe, however, with examples in the exhibition by artists including Hendrik Goltzius, Hans Bol and Rembrandt.
Chapman said there were significant differences between Italian artists and northern European artists, with the latter using it in the home – whether drawing a loved one or, in the case of Dürer, a dog he likes.
"The Italians are very conservative: silverpoint is something you do at work, you don't take it home."
Raphael, The Heads of the Virgin and Child, circa 1509
Metalpoint fizzled out in the 17th century before making a comeback in the 19th century, popular with pre-Raphaelite artists such as William Holman Hunt and Edward Burne-Jones.
One of the most poignant examples from the 20th century is a 1934 metalpoint landscape drawing by the German artist Otto Dix, who had been sacked from his teaching post and whose art was condemned by the Nazis. The drawing shows a Jewish cemetery in the countryside with dark clouds hovering overhead.
"By using silverpoint he is making a statement, saying: I do belong to this great German tradition which goes all the way back to Dürer, I am part of this, whatever the Nazis say I am a German artist."
Jasper Johns, Untitled, 1984
The London exhibition will be announced at a briefing to mark publication of the British Museum's annual report, the final one launched by Neil MacGregor, who steps down as director in December.
Chapman hopes the show will be something of an eye-opener. It is a simple yet difficult technique, no good for any artist who does not like making mistakes. When done well, the results can be astounding. "In a way," said Chapman, "you're going behind the scenes of an artist to see the raw creativity."
• Drawings in silver and gold: Leonardo to Jasper Johns will be in room 90 of the British Museum from 10 September to 6 December, entrance £8.
http://www.theguardian.com/artanddesign/2015/jul/01/british-museum-exhibition-metalpoint-drawings
See also
http://www.susanschwalb.com/