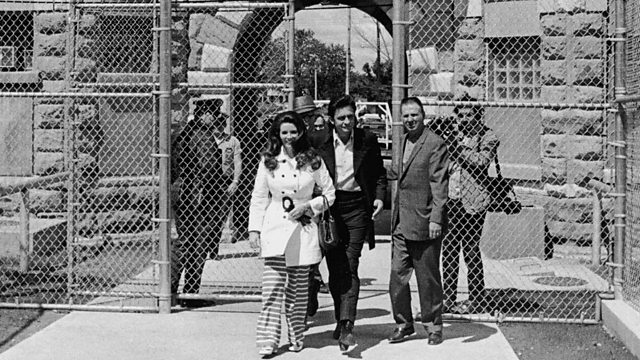 Danny Robins explores the little known story of Johnny Cash the prison reformer.
Cash's classic albums recorded at Folsom Prison and San Quentin are well known but few are aware that these were just two of many prison concerts he played over decades. Robins discovers how the singer became a passionate prison reformer who donated his own money to the cause, took a prisoner into his home and met Richard Nixon to force the issue.
Away from the spotlight of Folsom and San Quentin, Robins uncovers two neglected prison concerts. In Arkansas, he discovers a forgotten concert from one of the worst prisons in America at the time, Cummins Penitentiary. We go inside the prison, a place only few journalists have been allowed, and discover footage of Cash performing there. Robins looks at instruments of torture and meets one of the few men still alive who was at the concert, to discover what daily life was like in the prison a federal judge called "a dark and evil place".
He also unearths a prison album recorded at a Swedish prison in 1972, the only prison concert Cash ever performed outside America. Whereas Cummins represented everything Cash wanted to change about American prisons, Stockholm's Österåker prison represented everything he hoped they might become. Life at Österåker in the late 1960s and 70s was as liberal as Cummins was harsh, but was the Swedish way any more successful when it came to rehabilitating criminals?
Producer: Jo Wheeler
A Unique production for BBC Radio 4.
Listen now (or for the next 28 days):