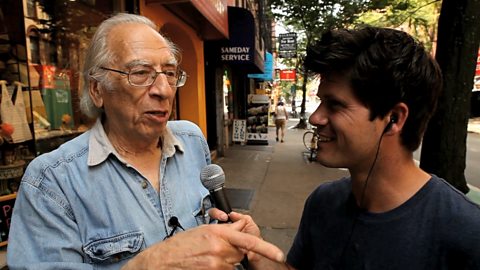 The Folklorist
One of the UK's most acclaimed folk singers, Seth Lakeman, travels to New York to meet the man regarded as the world's leading expert on folk music, 85-year-old Izzy Young, who opened his first Folklore Center in New York's Greenwich Village in 1957.
The store in MacDougal St became a focal point for the American folk music scene of the time. Bob Dylan writes in his memoirs about spending time at the Center, which he referred to as "The citadel of Americana Folk Music - like an ancient chapel". Dylan met Dave Van Ronk in the store, and Izzy Young produced Dylan's first concert at Carnegie Chapter Hall in 1961. Dylan wrote a song about the store and Young called "Talking Folklore Center".
After developing an interest in Swedish folk music at a festival, Young closed his New York store and in 1973 he moved to Stockholm where he opened the Folklore Centrum, where he still works seven days a week.
Making a rare return to New York, 40 years since he first left, Izzy joins Seth on the steps of 110 MacDougal St in Greenwich Village - the site of his original Folklore Center – to reminisce about the evocative days in the late 50s and early 60s when, as Bob Dylan recalls, "Folk music glittered like a mound of gold".
Wandering up MacDougal Street to Washington Square Park, Izzy describes the events of April 1961, when `Folkies' staged what would later be referred to as `the first protest action of the 60s'. When city officials tried to ban folk musicians from performing in the square, Izzy was the main organiser of a protest that resulted in clashes with local police. The protestors eventually won their legal battle with the city and music has been permitted in the square ever since.
Producer: Des Shaw
A Ten Alps production for BBC Radio 4
Catch it now or over the next 28 days at
https://www.bbc.co.uk/programmes/b0381fzj