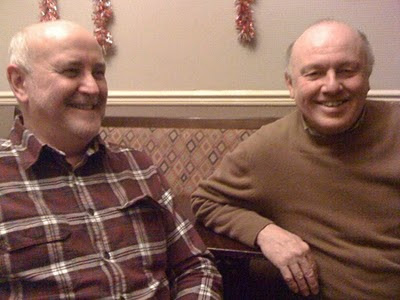 Da Elderly discussing the possibility of adding Rat in the Kitchen to his set with a man who could tell him a thing or two
Ron Elderly: -
Yesterday
The Air That I Breathe

Da Elderly: -
Love Song
You've Got A Friend

The Elderly Brothers: -
All I Have To Do Is Dream
When Will I Be Loved
Walk Right Back
When I Saw Her Standing There

Busy at times, quiet at times......one of those nights at The Habit open mic. Ron's planned set list was scuppered when our host kicked off with Jealous Guy and 3rd act on, regular Chris, sang Dock Of The Bay! We were entertained by a new chap sporting a great-sounding ukulele, particularly on Labi Siffre's It Must Be Love. The Elderlys finished off the show proper and the after-show jam had folks singing along for another hour or so.