Loudon Wainwright III Announces Two-Disc "Audio-Biography"
The album is set to release on September 14 via Story Sound Records.
Reece Jamison
American Songwriter
21 June 2018

Loudon Wainwright III has announced his plans to release Years In The Making, a two-disc, 42-track compendium album comprised of live recordings, radio appearances, home demos, cut album tracks and more.

The content of the album spans more than 45 years of Wainwright's career, showcasing his more rare, offbeat or unissued work. Of the album, Wainwright says: "Years in the Making covers a lot of ground, about half a century's worth. Sonically it's all over the place and, at times, noticeably low-fi, but my co-producer Dick Connette and I decided that didn't matter as much as offering up something that was spirited and representational." Wainwright's discography to date is made up of 23 solo albums, 4 live albums, and 5 compilation albums.
The two-disc "audio-biography" will be released along with a 60-page hardbound book (with artwork done by New Yorker cartoonist Ed Steed) divided into seven chapters filled with scans of documents, introspective musings and other artifacts from Wainwright's younger years, supplemented with paintings and drawings by friends and fans.
The album drops September 14 via Story Sound Records.
Years In The Making Track Listing:
DISC ONE
Rosin the Bow
You Ain't Going Nowhere
Easy St. Louis Tweedle-Dee
Everybody I know
Philadelphia Lawyer
Roll in My Sweet Baby's Arms
Love Gifts
Stewball
Floods of Tears
Station Break
Have You Ever Been To Pittsburgh
2 Song Set
Cardboard Boxes
Smokey Joe's Café
You Hurt Me Mantra
Rambunctious
I Wanna Be On MTV
Birthday Poem / Happy Birthday / Animal Song
Your Mother & I
Button Nose
The Ballad of Famous & Harper
Teenager's Lament
Things
DISC TWO
Unrequited to the Nth Degree
Ulcer
You Can't Fail Me Now
No
Rowena
Cheatin'
IDTTYWLM
Down Where the Drunkards Roll
POW
Meet the Wainwrights
Liza Minnelli Interview
Hollywood Hopeful
Valley Morning
Trailer
God's Got a Shit List
Thank You, Mr. Hubble
It Ain't Gaza
Out of This World
Birthday Boy
http://americansongwriter.com/2018/06/loudon-wainwright-iii-announces-two-disc-audio-biography/
Loudon Wainwright III's Years in the Making comprehends 45 years of offbeaten tracks - over two hours of rare and unissued Loudoniana. It's a 2-CD audiobiography, with orphaned album cuts, live recordings, radio appearances, home demos, and more. There's audio snapshots of his early folk efforts, with Kate McGarrigle, George Gerdes, and Steve Goodman, singing traditional songs and covering Woody Guthrie and, of all people, Bob Dylan. There's his 70s and 80s forays into the rock 'n' roll world, including Leiber and Stoller's "Smokey Joe's Cafe" and his own "I Wanna Be on MTV." There are featured appearances by Suzzy Roche, Bill Frisell, Van Dyke Parks, Chaim Tannenbaum, and David Mansfield, as well as by his sister Sloan, and all of his children, Rufus, Martha, Lucy, and Lexie.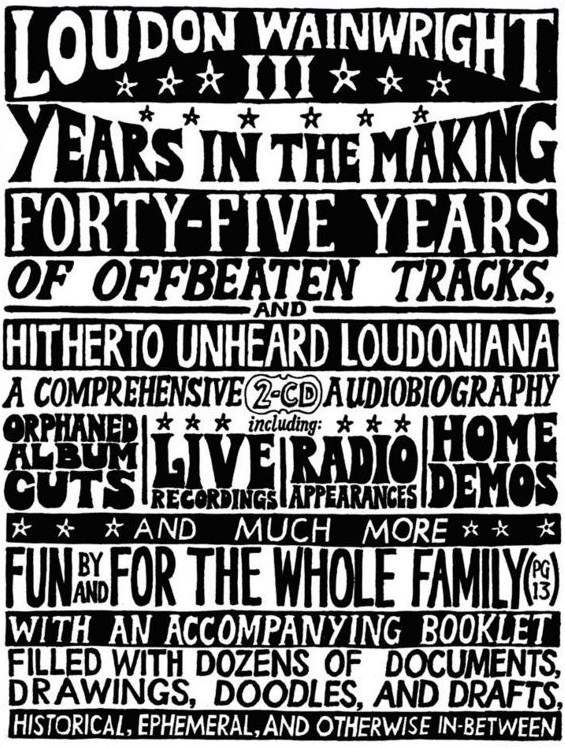 The CDs are packaged in an elegant 60-page booklet. The wild creations of the brilliant young New Yorker magazine cartoonist Ed Steed are featured on the front and back covers, everywhere throughout the comprehensive credits text, and even on the discs, themselves. There are dozens of scans of documents, introspective musings, and artifacts from what Loudon calls his "swinging life," in addition to lovely paintings and drawings by friends and fans. Altogether, Years in the Making presents sides of Loudon you've never heard or seen before, a privileged perspective on his various public and private selves throughout his entire career.
https://www.propermusic.com/product-details/Loudon-Wainwright-III-Years-In-The-Making-256308