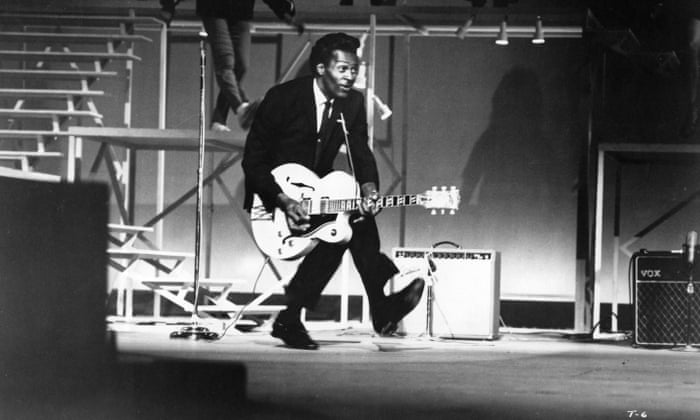 Chuck Berry, wild man of rock who helped define its rebellious spirit, dies at 90
Chuck Berry, a charismatic singer, songwriter and one of the greatest guitarists of all time, died March 18 at at his home in St. Charles County, Mo. He was 90.
Terence McArdle
TheWashington Post
18 March 2017
Chuck Berry, the perpetual wild man of rock music who helped define its rebellious spirit in the 1950s and was the sly poet laureate of songs about girls, cars, school and even the "any old way you choose it" vitality of the music itself, died March 18 at at his home in St. Charles County, Mo. He was 90.
St. Charles County police announced the death in a Facebook post on its Website, saying officers responded to a medical emergency at Mr. Berry's home and administered lifesaving techniques but could not revive him. No further information was available.
"While no individual can be said to have invented rock and roll, Chuck Berry comes the closest of any single figure to being the one who put all the essential pieces together," reads Mr. Berry's induction into the Rock and Roll Hall of Fame in 1986.
A seminal figure in early rock music, he was all the rarer still for writing, singing and playing his own music. His songs and the boisterous performance standards he set directly influenced the Beatles and the Rolling Stones and later Bruce Springsteen and Bob Seger.
Mr. Berry so embodied the American rock tradition that his recording of "Johnny B. Goode" was included on a disc launched into space on the Voyager 1 spacecraft in 1977.
Besides Mr. Berry, members of the rock hall of fame's inaugural class included Elvis Presley, Buddy Holly, James Brown, Jerry Lee Lewis, Little Richard, Ray Charles, Sam Cooke, Fats Domino and the Everly Brothers. Of those he survived, Mr. Berry remained among the most indefatigable and acclaimed performers, playing concerts all over the world well into his 80s.
Despite John Lennon's oft-quoted quip — "If you tried to give rock-and-roll another name, you might call it 'Chuck Berry' " — Mr. Berry was an unlikely idol for a burgeoning teen subculture that he sang about at the dawn of the rock era.
He was 30, married and the father of two when he made his first recording, "Maybellene" in 1955. The song — a story of a man in a Ford V8 chasing his unfaithful girlfriend in a Cadillac Coupe de Ville — charted No. 1 on Billboard's rhythm-and-blues chart and No. 5 on the pop music charts.
It was soon followed by "Rock and Roll Music" ("it's got a backbeat, you can't lose it") and"Sweet Little Sixteen," whose astute reference to the teen-oriented TV show "American Bandstand" ("Well, they'll be rockin' on Bandstand, Philadelphia, P.A.") helped him connect to adolescent record-buyers.
With his lithe, athletic body, high cheekbones and perfectly pomaded hair, Mr. Berry personified the dangerous appeal of rock. He'd grin salaciously and telegraph the lyrics with a wide-eyed, almost childlike exuberance and then shoot across the stage, unleashing a staccato burst of bright, blaring guitar notes.
When he went into his signature "duck walk," his legs seemed to be made of rubber, and his whole body moved with clocklike precision — the visual statement of his music's kinetic energy. His charisma was the gold standard for all the rock-and-roll extroverts who followed.
He once told The Washington Post that he initiated the duck walk at the Brooklyn Paramount theater in 1956, based on a pose he sometimes struck as a child. "I had nothing else to do during the instrumental part of the song," he said. "I did it, and here comes the applause. Well, I knew to coin anything that was that entertaining, so I kept it up."
Mr. Berry was credited with penning more than 100 songs, the best known of which used carefully crafted rhymes and offered tightly written vignettes about American life. They became an influential part of the national soundtrack for generations of listeners and practitioners.
"Back in the U.S.A." (1959), later covered by Linda Ronstadt, delighted in an America where "hamburgers sizzle on an open grill night and day." And "School Day (Ring! Ring! Goes the Bell)" (1957), written about the over-crowded St. Louis schools of Mr. Berry's youth, became an anthem for bored, restless kids everywhere.
The Beach Boys had a hit record with "Surfin' USA" (1963), its melody borrowed without credit from "Sweet Little Sixteen." The Beatles began their first U.S. concert, at the Washington Coliseum, with Mr. Berry's "Roll Over Beethoven" (1956).
And when Bob Dylan turned toward electric rock-and-roll, he acknowledged that his "Subterranean Homesick Blues" (1965) borrowed its meter almost directly from Mr. Berry's "Too Much Monkey Business'' (1956).
Perhaps the most performed of his songs — indeed, one of the most performed of all rock songs — was "Johnny B. Goode" (1957). Its storyline embodied Mr. Berry's own experience as a black man born into segregation who lived to see "his name in lights:"
Deep down Louisiana close to New Orleans

Way back up in the woods among the evergreens

There stood a log cabin made of earth and wood

Where lived a country boy named Johnny B. Goode

Who never ever learned to read or write so well

But he could play the guitar just like a ringin' a bell
"The gateway from freedom, I was told, was somewhere near New Orleans where most Africans were sorted through and sold" into slavery, Mr. Berry wrote in his self-titled 1987 memoir. "I'd been told my grandfather lived 'back up in the woods among the evergreens' in a log cabin. I revived the era with a story about a 'colored boy named Johnny B. Goode.'  "
Mr. Berry said he knew the song could have a wider appeal. "I thought it would seem biased to my white fans to say 'colored boy' so I changed it to 'country boy,' " he added.
In an interview with The Washington Post this year, rock historian Albin Zak called Mr. Berry a "very literate" wordsmith but that more important was the "durability" of his songs.
"In early rock-and-roll, there were so many one-hit wonders, but Chuck had so many hits that he was one of the most recognizable stars in the business," Zak said. "When rock became solidified in 1964 and the British invasion comes along with bands like the Beatles and Rolling Stones performing Chuck Berry songs, it seals the deal on the vitality of that repertoire. His music became tradition at that point."
Despite Mr. Berry's charisma, race played a factor in preventing him from achieving Elvis-like levels of commercial success in Hollywood and Las Vegas. He had hits including "No Particular Place to Go" (1964) and "Dear Dad" (1965) and appeared in "The T.A.M.I. Show," a 1965 concert film with James Brown, the Rolling Stones, the Beach Boys and Marvin Gaye. But Mr. Berry was relegated to the oldies circuit by the end of the decade.
In 1987, in the wake of his induction into the rock hall of fame, Mr. Berry released his memoir and was the subject of "Chuck Berry: Hail! Hail! Rock 'n' Roll," a documentary and concert film featuring guest performers including Keith Richards and Eric Clapton.
At the time, Mr. Berry said he was wary of accepting a crown — bestowed by critics or peers — as a "king" of rock music.
"It's not me to toot my horn," he told The Washington Post. "The minute you toot your horn, it seems like society will try and disconnect your battery. And if you do not toot your horn, they'll try their darnedest to give you a horn to toot, or say that you should have a horn. It's them that creates the demand, so let them toot the horn."
Charles Edward Anderson Berry was born in St. Louis on Oct. 18, 1926. His father was a carpenter and handyman.
He was 14 when he began playing guitar and performing at parties, but that was interrupted by a three-year stint in reform school for his role in a bungled armed robbery. After his release, he worked on an automobile assembly line while studying for a career in hairdressing.
On weekends, he sang at the Cosmopolitan Club in East St. Louis, Ill., with a group led by pianist Johnnie Johnson, who later played on many of Mr. Berry's records.
At the urging of Muddy Waters, Mr. Berry took his demo tapes to Chess Records, the Chicago label that specialized in blues and urban rhythm-and-blues. Label owner Leonard Chess was impressed by "Ida May," a country-and-western-styled tune, and said he would allow Mr. Berry to record it if he would change the name to "Maybellene."
The song's countrified style and Mr. Berry's non-bluesy intonation reportedly led many disc jockeys to assume that he was white, and the song's popularity with white record-buyers helped spur his quick rise in the music industry.
His savvy about the unsavory business practices of the day — giving co-writing credits to deejays, such as Alan Freed, in exchange for frequent airplay — also propelled his career.
His career was nearly derailed in 1959, when he was arrested on a federal charge of taking a 14-year-old girl across state lines for immoral purposes. Mr. Berry was convicted but granted an appeal on the basis of racist remarks made by the judge. A second trial also ended in a conviction. Mr. Berry eventually served 18 months of a three-year sentence and paid a $10,000 fine.
He was released in 1963, soon to find his career overtaken by a second wave of rockers and the so-called British invasion of bands, such as the Beatles and the Rolling Stones. He continued to be drawn into the headlines by legal troubles. In 1979, he served four months in Lompoc Federal Prison in California for tax evasion.
In 1989, Hosana Huck, a cook in Mr. Berry's St. Louis restaurant, the Southern Air, sued him, claiming that he secretly videotaped her and other women in the establishment's restroom. Huck's suit was followed by a class-action suit by other unnamed women. Mr. Berry denied any wrongdoing but settled out of court in 1995 for $1.5 million.
In 1948, Mr. Berry married Themetta Suggs, known as Toddy. Information on survivors was not immediately available.
Mr. Berry receiveda Grammy Award for lifetime achievement in 1984 and the Kennedy Center Honors in 2000.
In later years, when Mr. Berry reflected on his age, he always made it clear that he intended to keep rocking as long as he lived.
"Elvis's songs will always be there, and I hope mine will be after I'm gone," he told the Los Angeles Times in 2002. "But you can't compare that, because he's gone and I'm not!"