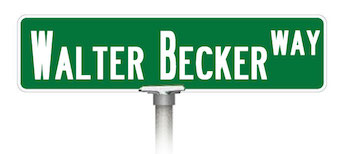 Walter Becker Receives Street Co-Naming Honor
New York Musician's Queens Roots Remembered
June 28, 2018 — Walter Carl Becker (Feb. 20, 1950 - Sept. 03, 2017), was an American musician, songwriter, guitarist, bassist and record producer. In 1971, Walter Becker and his partner, Donald Fagen, formed the jazz-rock band Steely Dan, producing music that was highly regarded by critics and fellow musicians alike. His partnership with Fagen produced music that sustained a devoted audience for over 40 years, and his solo output enjoyed uncommon critical success.
Street Co-Naming Honor: The New York City Council bestows street co-naming honors on New York activists, cultural heroes, and community leaders who's contribution has a lasting impact on the city, the country, and the world. City Council Member Hon. Karen Koslowitz of the 29th District (Queens) recommended Becker by way of a legislative bill, which was approved by a full council vote on June 28.
Becker was a native of Forest Hills, Queens, growing up at 112-20 72 Drive. "Walter Becker Way" will join the street signs at 112th and 72nd Drive
Unveiling — Oct 28: The date for the street sign ceremony is Sunday Oct. 28, 2018. Since this event is for the enjoyment of the fans, with a priority on fostering a fun and free gathering to honor and celebrate Becker as only his fans can, the Becker family has opted to give the fanbase complete control over the planning and organization of the day's festivities. These fans have decades of experience holding "Dan-Fests" throughout the country, and always find creative and surprising ways of celebrating the day. Those plans are in the works as we speak, and more details of their machinations will appear in this space, so check back soon for an update.
STEELY DAN sold more than 40 million albums worldwide and helped define the soundtrack of the '70s with hits such as Reelin' in the Years, Rikki Don't Lose That Number, F.M., Peg, Hey Nineteen, Deacon Blues, and Babylon Sisters, culled from their seven platinum albums issued between 1972 and 1980 (including 1977's ground breaking "Aja"). They reunited in the early '90s, launching over a dozen sold-out tours which continued into 2017.
In 2000 they released multi-Grammy winner (including Album Of The Year) "Two Against Nature", and released its acclaimed follow-up "Everything Must Go" in 2003. They received The ASCAP Founder's Award in 2000 and were inducted into the Rock & Roll Hall of Fame in 2001.
Walter's solo releases include 1994's 11 Tracks of Whack, which was included in Jon Pareles' (New York Times) Top Ten list for the year. Its long-awaited follow-up, Circus Money (2008) , became an instant classic among critics and fans.
Information and Updates: Check back here at
http://walterbeckerway.com
for more information, updates, and details of the ceremony and associated events. Major Update July 9-12.
Other websites of interest:
http://walterbecker.com
(Walter Becker Official Site) and
http://walterbeckermedia.com
(Rarities, unreleased tracks, and discussion boards)
And lest we forget...