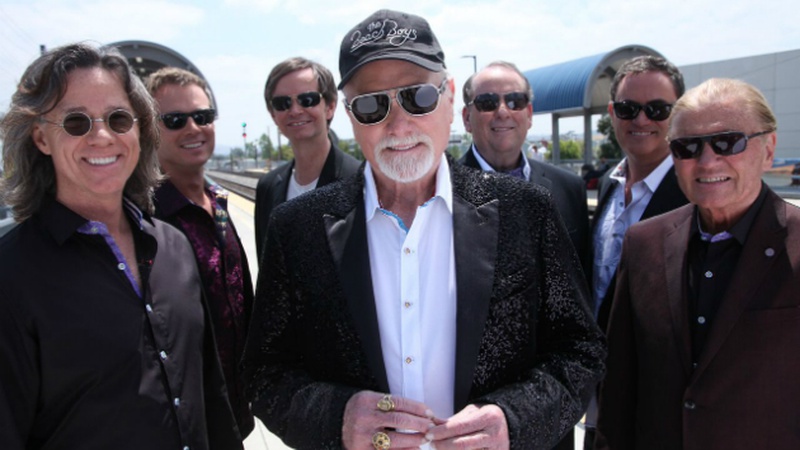 The Beach Boys: The Wild Honey Tour
The Sage, Gateshead
25 May 2017
Often depicted as the black sheep of the band, Mike Love brought the touring Beach Boys to The Sage last night and put on a superlative show. The naysayers will attempt to diminish his role in the band's evolution. "He only did this…" or "He only did that…", but the informed fan, regardless of what they may feel about some of his past pronouncements or decisions, knows this is the man who co-wrote many of the band's early hits and that his voice is all over them, and is often, in fact, the, lead voice that Brian Wilson had in mind.
There is considerable difference amongst fans and scholars as to whether Love should be using the Beach Boys' name (event though cousin Brian long-since signed off on this), but no-one can doubt the quality of this performance.
At 76, Love is one of THE key surviving figures from this era of music and while his speaking voice seemed rough last night, his lead and bass vocals were superb; in fact, there are those who would say he's been in better form over recent years than he was in the 1980s. While he was the only original band member present, he was accompanied – as he has been for many years – by Bruce Johnston, a Beach Boy from 1965 -71 and from 1979 to the present; indeed, 1978's MIU is the only studio album from Summer Days (and Summer Nights!!) on which he doesn't feature - and for that he must be eternally grateful.
They were backed by an incredibly tight band, under the direction of the inestimable Scott Totten and featuring, among others, Jeff Foskett, formerly of the Beach Boys' touring band and latterly of Brian Wilson's band, and a long-time Love-associate, the energetic John Cowsill, on drums, whose singing and playing on Wild Honey were beyond belief.
In just over two hours, the band tore through over 40 songs, many from pre-1966 albums, an era often dismissed as 'formative' – and yet how many of these are ingrained in our minds and how many were hits? The surf and car songs were performed with a punk rock-intensity; the ballads with sensitivity.
The highlights were many, including the beautiful a cappella Their Hearts Were Full of Spring, originally a Four Freshman song, sung by Love, Johnston, Totten and Brian Eichenberger, who had been a member of the latter day incarnation of the Freshmen; Kiss Me Baby and The Warmth of the Sun, two of Brian Wilson greatest pre-Pet Sounds songs; an outstanding cover of Why Do Fools in Love and, as ever, the wonderful Disney Girls, sung by its composer, Bruce Johnston.
My only real quibble was that although this was termed The Wild Honey Tour, they performed just three songs from that overlooked album. I have to admit, I was kind of hoping for more – particularly because of the imminent and eagerly anticipated release of a stereo version with numerous outtakes and live tracks from the period. See
http://fridaynightboys300.blogspot.co.uk/2017/05/the-beach-boys-sunshine-tomorrow.html
The audience, from people in their late teens to people older than Love himself, were on their feet for most of the concert's second half and there was a real buzz around the place when the hall emptied out. If you dislike Love so much you'd refuse to see this tour and hear music performed by a great band and sung by two of the original vocalists, you really need to get over it…
Frank Black