Dallas Taylor dies at 66; drummer for Crosby, Stills, Nash & Young
18 January 2015

Dallas Taylor liked to say that he made his first million — and his last million — by the time he was 21.

The rock drummer was a key sideman for Crosby, Stills, Nash & Young. He played at Woodstock, appeared on seven top-selling albums and bought three Ferraris. He also stabbed himself in the stomach with a butcher knife and drank so heavily that he required a liver transplant in 1990, five years after becoming sober.

Taylor, who went on to become an addiction counselor specializing in interventions and in reuniting alcoholics and addicts with their families, died Sunday in a Los Angeles hospital. He was 66.

He had been in failing health for some time, his wife, Patti McGovern-Taylor, said.

McGovern-Taylor gave her ailing husband one of her kidneys in 2007.

Taylor's health forced him to largely exit the music business following his liver transplant. But he continued to treat musicians and other celebrities with addiction problems. In a 1994 Times essay, he wrote about Kurt Cobain, the 27-year-old lead singer of the rock band Nirvana who killed himself in his Seattle home after checking out of a drug rehab facility.

"I understand what it is like to be an angry, depressed addict who needs so badly to be liked that he gets on stage and sweats and bleeds and hopes that people will somehow connect," he wrote.

"But as addicts whose only real happiness is being high — whether it's on dope or music, writing, acting or painting — success becomes our worst enemy. When self-hatred runs so deep, it is never alleviated by fame or wealth."

Dallas Woodrow Taylor Jr. was born in Denver on April 7, 1948, and raised in San Antonio. He was the son of a stunt pilot. When he was 4, he told People magazine, his parents' divorce gave him ulcers, which his mother treated with a preparation containing opium.

When he was about 10, he saw the "The Gene Krupa Story," a screen biography of the jazz drummer, and his course in life was set. He dropped out of high school at 16 and headed for Hollywood, where he tasted success with the rock band Clear Light.

"It was the Grateful Dead of the L.A. psychedelic rock scene," said Lee Houskeeper, a San Francisco publicist who was officially named Clear Light's "seer and overseer" — their road manager — by Elektra Records.

In the late 1960s, Taylor met David Crosby, Stephen Stills and Graham Nash, joining them on their first album, "Crosby, Stills and Nash." He also performed with them when they added Neil Young and belatedly showed up at Woodstock.

"It took cajoling," Houskeeper said, "but they finally came."

At a time when excessive drug use was common in the music industry, Taylor's habit stood out. He was fired from Crosby, Stills, Nash & Young after their 1970 album, "Déjà Vu." Keith Moon, the notoriously self-destructive drummer for the Who, warned Taylor about the price he ultimately would have to pay.

"Keith was always rock's No. 1 bad boy — he invented the whole thing with trashing hotel rooms," Taylor told The Times in 1990. "But I remember him telling me, 'Dallas, you do too much drugs.'"

Taylor was diagnosed with terminal liver disease in 1989. His friends in music held a benefit concert in 1990 to help fund his transplant.

Taylor also performed with Stephen Stills' band Manassas.

After he became sober, he acquired a credential in treating addictions, first working with troubled adolescents, McGovern-Taylor said.

"He found that he loved it," she said. "He identified with these kids and saw each in himself."

"He saved a lot of lives and his own in the process," she said.

In addition to his wife, Taylor's survivors include son Dallas, daughters Sharlotte and Lisa, and five grandchildren. He had several earlier marriages.
http://www.latimes.com/local/obituaries/la-me-dallas-taylor-20150119-story.html
Bassist Tim Drummond Dies at 74

Michael Gallucci
January 12, 2015
Bassist Tim Drummond — who played with Bob Dylan, Neil Young and Crosby, Stills, Nash and Young, among others — has died at the age of 74. No cause of death has been announced.
Rolling Stone reports that Drummond, who played on most on Young's classic '70s albums, died on Saturday. The coroner's office in St. Louis County, Mo., confirmed the news.
Drummond was born on April 20, 1940, in Canton, Ill. During his 40-plus years of making music, he played with a wide range of artists, including country legend Conway Twitty, R&B great James Brown, jazz icon Miles Davis and pop singer-songwriter Jewel.
But he's best known for his work with classic rockers like Dylan, Young, Eric Clapton and Joe Cocker. In addition to playing on Young's classic albums like 'Harvest' and 'Comes a Time,' Drummond was a member of his side bands the International Harvesters, the Shocking Pinks and the Stray Gators. He was also the bass player on Crosby, Stills, Nash and Young's notorious 1974 tour.
Over the years, Drummond played on albums by the Beach Boys, Ry Cooder and Don Henley. He also helped write some of the songs he performed, including Dylan's 'Saved' (he played on all three of Dylan's gospel albums from the late '70s and early '80s) and Cooder's 'Down in Hollywood.'
http://ultimateclassicrock.com/tim-drummond-dies/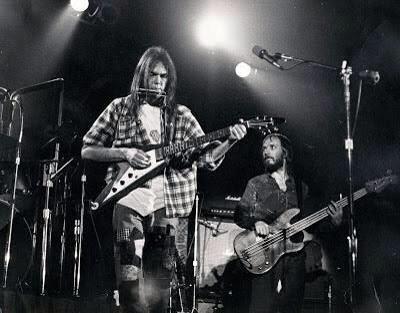 Tim Drummond, Bassist for Neil Young and Bob Dylan, Dead at 74
In-demand session bassist performed with everyone from James Brown and Miles Davis to Jewel and the Beach Boys

Daniel Kreps
January 12, 2015
Journeyman bassist Tim Drummond, who performed with Neil Young, Crosby, Stills and Nash and Bob Dylan among many more rock legends, passed away January 10th, the St. Louis County, Missouri coroner's office confirmed to Rolling Stone. No cause of death was given but investigators revealed there was no trauma.
Drummond served as primary bassist on Young's 1972 masterpiece Harvest and contributed to every studio LP the singer-songwriter released from 1974's On the Beach to 1980'sHawks & Doves. Drummond was also a member of Young's short-lived backup bands the Shocking Pinks, the Stray Gators and the International Harvesters. After reuniting with the Harvest crew for 1992's Harvest Moon, Drummond's two-decade-long tenure with Young ended with the rocker's 1993 MTV Unplugged performance.
Astrid Young, Neil Young's half-sister who played alongside Drummond on Harvest Moon, wrote on Facebook, "RIP Tim Drummond. Long may you run."
"One of the best bass players and a great guy. Sad to hear this," producer Craig Leon tweeted.
Drummond's credits run deep and diverse and include the Beach Boys' 15 Big Ones, Don Henley's Building the Perfect Beast, a trio of Ry Cooder albums and Jewel's Pieces of You. The bassist performed alongside legends Miles Davis, John Lee Hooker and Taj Mahal on Jack Nitzsche's score for the 1990 film The Hot Spot and collaborated with the likes of James Brown, Lonnie Mack, Rick Danko, J.J. Cale and John Mayall through the years.
In addition to being an in-demand session bassist, Drummond also co-wrote "Saved" with Bob Dylan, the title track from Dylan's 1980 album. Drummond was on the bass for the entire run of Dylan's "gospel trilogy" – Slow Train Coming, Saved and Shot of Love – and, along with longtime collaborators keyboardist Spooner Oldham and drummer Jim Keltner, was a member of the powerful backup band that accompanied Dylan on his Slow Train Coming tour.
"I can't praise [Dylan] enough. He's not only a dear friend, but he was just great," Drummond recently told Rolling Stone about touring Slow Train Coming. "At that time I was semi-bandleader, and I kept telling the band, 'Watch [Dylan's] right heel when he's stomping. Don't tap your toe, watch your heel. That's where the beat is.' And that's exactly right. It's the heel that counts. If you tap your toe, you'd be off."
Drummond also joined Crosby, Stills, Nash and Young on the road during the band's infamous 1974 "doom tour" and performed on CSN's 1977 single "Just a Song Before I Go." Rolling Stone spoke to Drummond about his experiences on the 1974 CSNY trek, including the night he and Stills hung out with Dylan after a Minneapolis concert.
"He played us all the songs from Blood on the Tracks on acoustic guitar," he said. "We were on twin beds, across from each other. Oh God, I can't tell you how great it was. At one point Stephen said something to him about the songs not being good. I was so goddamn embarrassed. He was probably coked out. Dylan, being the arrogant man that he was said, 'Well, Stephen, play me one of your songs.' That was the end of it. Stephen couldn't even find one string from another at that point."
He also recalled what the tour was like onstage. "The guitar duels between Stephen and Neil got really loud," Drummond said. "I'd just wander between the amplifiers and do my thing so I could hear myself. I was lucky I made it through that tour without ruining my ears."
Drummond's death comes just three months after Rick Rosas, who played bass alongside Neil Young for nearly 25 years and was known as "Rick the Bass Player," passed away at the age of 65 following a battle with cancer.
http://www.rollingstone.com/music/news/tim-drummond-bassist-neil-young-bob-dylan-dead-20150112