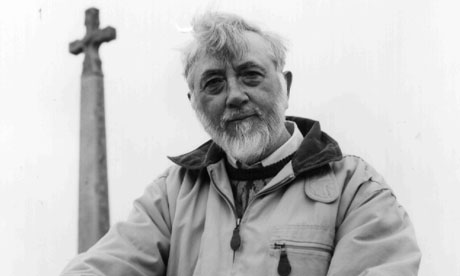 William Martin
Roger Garfitt
The Guardian
Sunday 17 October 2010
My friend the poet William Martin, who has died aged 85, was a socialist who never lost his vision of what society might be. He was born in Silksworth, near Sunderland, one of the pit villages in the Durham coalfield – and in his poetry he told the story of the slogan bread, the loaves brought by miners to their comrades on strike and laid out in slogans on the hillside. His work also remembered the Miners' Gala in 1951, the year of the Easington disaster, and the "thronged, comforting hush" when the banner, draped in black crepe, was carried down on to the racecourse.
Married to Winsome, a schoolteacher, he worked as an audiology technician at the Sunderland Royal Infirmary and maintained a warm presence as father and grandfather, while his imagination ranged far and wide, drawing on the Gnostic gospels, the Black Madonna of Montserrat and the Babylonian goddess Tiamat, who embodied for him the suppressed feminine principle.
His first pamphlet, Easthope, came out from the Ceolfrith Press in 1970, followed by two collections from Taxus Press, Cracknrigg (1983) and Hinny Beata (1987), and two collections from Bloodaxe Books, Marra Familia (1993) and Lammas Alanna (2000), to which he added his own lettering and artwork. The beauty of these books is an expression of Bill's underlying concern as a poet, to restore the collective symbols, releaf the ikons with gold.
In the same way, his readings began to take on an aural dimension which grew naturally out of the rich song tradition of the north-east, which Bill knew from his own childhood and from the many evenings he spent at the folk club at Birtley, Tyne and Wear, run by the Elliott family. He had always been a remembrancer, patiently polishing the common coins of nursery rhymes, street games and calendar customs, and putting them back into circulation. But when, at the height of a reading, he actually broke into song, he became something more: a figure with an almost priestly power, a cantor for his community.
He is survived by Win, by his sons Graham and Keith, and by his five grandchildren.
http://www.guardian.co.uk/theguardian/2010/oct/17/william-martin-obituary
http://williammartinpoet.com/
http://www.bloodaxebooks.com/titlepage.asp?isbn=1852243694