Yep. That Phil Collins...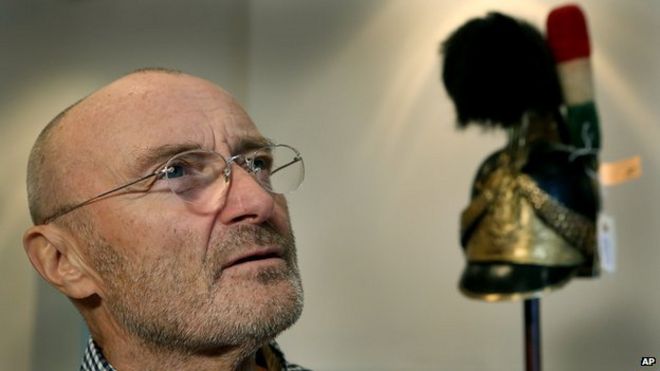 Phil Collins: King of the Wild Frontier
The largest private collection of Alamo memorabilia resides in an impressive Geneva home in Switzerland. Also resident is singer songwriter and Genesis drummer - Phil Collins.
Davy Crockett and The Alamo are his very private passion and Collins invites presenter Patrick Humphries into his home to talk us through his impressive collection. We discover how he began collecting, where he secures his artefacts and how he has organised excavations through the profits of a gift shop at the famous Alamo battle site.
We have all heard of The Alamo but why does this American battle of March 6th 1836, when 180 Texans fought an army of 6,000 Mexicans still resonate nearly two centuries on? Collins is very knowledgeable about this particular period of American history and talks impressively about the framed the documents and letters, the dozens of rifles and swords, authentic uniforms and the many artefacts collected across 30 years. His comments, are complemented by Historian Bill Chemerka and we hear Film buff Lee Pfeiffer, he talks us through films and TV series which have enshrined the Alamo in many young minds 50 years ago.
Crockett was a largely forgotten hero, but his legend was reborn in the 1950s thanks to a Walt Disney TV show, which also introduced his legendary coonskin cap into his legacy. The John Wayne Alamo movie also raised Crockett's profile. The programme also hears from a living relative of Davy Crockett, his great great great grandson also called Davy! He reveals how the family see his famous father's legend and the events at The Alamo. However it's Patrick's visit to Phil Collins home that makes sure this is a different kind of history programme, revealing in the process why this particular piece of American history touches people so deeply.
It's available on BBC iPLayer (which you'll need to sign up for - it's free) for another 29 days (and counting...):
And an update on the collection:
Phil Collins donates Alamo collection to Texas museum
27 June 2014
Singer Phil Collins has donated his extensive collection of Alamo memorabilia to a Texas museum.
The 63-year-old Genesis star said he had amassed more than 200 artefacts after becoming fascinated with the 1836 battle as a child.
Collins said he was donating the collection - thought to be the largest in private hands - to ensure it was better cared for in the future.
It includes items such as a rifle owned by folk hero Davy Crockett.
At an event announcing the donation in San Antonio, Collins joked he had spent "all the money I made from music" on his collection related to the battle where 1,500 Mexican troops laid siege to 200 Texans fighting for Texas independence.

"Some people would buy Ferraris, some people would buy houses, I bought old bits of metal and old bits of paper," he said. He explained he first became interested in the Alamo after watching the 1950s TV series Davy Crockett, King of the Wild Frontier.

"I've had a love affair with this place since I was about 5 years old. It's [all] at my home, in my basement in Switzerland. I look at it every day, but no one else was enjoying it."

The collection also includes Crockett's leather shot pouch, a pair of powder horns which the soldier is believed to have given to a Mexican officer before his death, muskets belonging to Mexican soldiers and one of the original Bowie knives, made famous by Alamo defender Jim Bowie.

Texas land commissioner Jerry Patterson said Collins would pay to ship the collection to Texas with the understanding the state would use public funding and private donations to redevelop the Alamo site - including a new building to house the collection.

The collection will begin arriving in Texas in the next few months and will be displayed on a rotating basis at the museum.

Collins said he would continue buying Alamo memorabilia and "once I've lived with whatever I buy for a month, I'll ship it over here".
And if you really want to push out the boat, there's a book: