In Search of The Blue Nile
Ken Sweeney on his radio documentary
Paul Trainer
Talk of the Town
16 April 2017
When Irish journalist Ken Sweeney visited Glasgow for the first time, it was a pilgrimage to a place that had existed in his imagination ever since he first heard the music of The Blue Nile. It was also the start of a labour of love as he set out to tell the story of the band in their own words. The result was a delicately crafted radio documentary that was broadcast on RTE in Ireland and found an audience around the world.
Peter Gabriel, Ryan Adams and The 1975 were among those who voiced praise for the programme. John Douglas, husband of Eddie Reader and member of The Trashcan Sinatras describes In Search of The Blue Nile as "beautiful, respectful, probing and informative".
The attention has led to BBC Scotland scheduling an updated version of In Search of The Blue Nile for Easter Monday at 4pm. Glasgowist spoke to Ken after the first broadcast and caught up with him recently to find out more.
You were back in Glasgow in March, was there more work to do on the documentary before it was ready for a Scottish audience?
I was back over in Glasgow to re-voice some of the doc. It was the most amazing sunny weekend, Glasgow seemed a different city, everybody seemed to be out in the park.
I spent a whole day with [The Blue Nile keyboard player] PJ Moore and at one point we were back up at the spot at Kelvingrove where we created the picture taken by John G Moore – where I had interviewed him in the rain last November. It was so sunny, there were people sun bathing beside us on the steps.
When I was doing the doc originally I used to love getting a 6:30am plane over from Dublin and getting onto the streets of Glasgow before 8am in the morning.
I would go from one end of the city to the other and eventually I would eat in an Italian restaurant called Amalfi – at 148 West Nile Street. They do great ravioli.
That weekend you were here, the BBC 6 Music festival was on and Paul Buchanan from The Blue Nile was speaking at one of the events, what was that like?
Paul took me along to that. I met him at the hotel where his manager was staying and we took a cab over. He's incredibly cool Paul, wearing this leather jacket, and looking so slim.
We were in the backstage area of The Tramway venue. All those BBC 6 presenters were knocking around.
Mark Radcliffe seemed to be a big fan and was talking to Paul for a while and asking about his solo album. So was Gideon Coe who chaired the talk.
I bumped into Edwyn Collins, who I knew from my days recording on Setanta Records and it turned out Paul was a great pal of Edwyn's wife Grace, I think they might been in college together.
There was a lot of excitement about Paul's new album because Paul said it was two thirds complete.
Are you pleased there will now be a Scottish broadcast of the documentary?
I've been getting calls this week from friends in Scotland who have been hearing trailers for this on the radio.
I'm delighted BBC Scotland are airing it in such a good slot, 4pm on a Bank Holiday.
You can have the doc shared on social media but there is a huge, older audience out there you can't get too. I suspect there's a lot of Blue Nile fans who don't know anything about the documentary and will be hearing it for the first time.
Something I really want to do with my doc was put Stuart Adamson of Big Country back into the Blue Nile story, Stuart Adamson is revered in Ireland.
Edge of U2 based his guitar sound on what Stuart was doing in The Skids but even big Blue Nile fans, didn't seem to know the part Stuart played in bringing The Blue Nile to the attention of Virgin Records, through his pal Ronnie Gurr, who was an A&R man with Virgin. It's certainly makes for a very dramatic part of the story.
Was it easy to get the backing to put the documentary together? How sure were you that it would find an audience?
The previous radio doc I produced was about a cabbie who drove Michael Jackson around Ireland when he lived here. It was my first documentary, and, to my shock, won an Irish radio award. But I wasn't really a fan of Michael Jackson. I waited a few years before doing another.
This time I wanted to do something on a musician or band I loved. There were a few people who advised me I was wasting my time making a documentary on The Blue Nile in 2017.
They said I was right about Michael Jackson but The Blue Nile? They just laughed and said this band didn't have any hits when they were together. So why would anyone be interested now… One industry guy went further and said that he doubted there was any kind of audience for The Blue Nile in 2017.
How wrong they were… from the moment someone on the Blue Nile Facebook saw a radio listing in the RTE Guide, it just took off. I was a bit surprised when RTE suggested putting it online before broadcast. There were some difficulties accessing it from the RTE Player, then a Blue Nile fan off the facebook, Kieran McCarthy, suggested a Soundcloud. That went up and it clocked up thousands of plays.
First in Ireland then Nicola Meighan tweeted a link which sent it across Scotland and the UK. Then it started getting picked up in America.
People who liked the doc, would tweet it, and then tweet it again.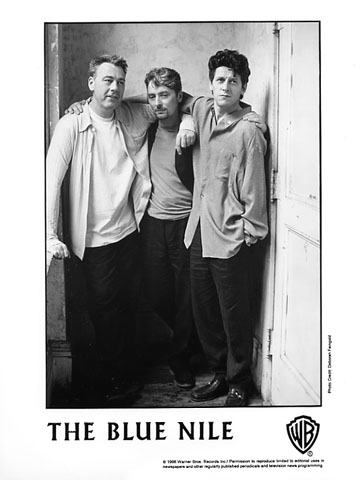 My Twitter handle would sometimes get used and I'd get up in the morning and see all these messages from people playing the documentary. I got up one morning and this guy was DMing me about The Blue Nile, we'd started to chat before I realised it was Ryan Adams, the American singer. I was following him already on twitter, he followed me and we were having this conversation.
The people tweeting it were so diverse, along with Peter Gabriel who posted it on his social media accounts, there was the artistic director of the Abbey Theatre in Dublin, fans in the Middle East, Japanese tweets I can't read.
This programme has reached a much bigger audience than my Michael Jackson documentary. It's just woken up a sleeping army of Blue Nile fans worldwide. There definitely is a market for this band in 2017.
With Paul having a new record ready to go, the doc might seem as if it was planned. It wasn't …. I just had a mad idea to jump on a plane and start this last November.
The Blue Nile had a great connection to the late journalist George Byrne. They were really shocked to hear of his death two years ago and we all liked the idea that RTE would make this doc about The Blue Nile dedicated to George.
So, from that discussion last month for the 6 Music Festival, there was a bit of confusion. Paul said he had an album that was almost finished, which I presumed to be his solo material, but it was picked up on Twitter as indications that there was a new Blue Nile album in the works. We've asked you this before, but we'll ask again to clarify – will The Blue Nile work together again?
Paul Buchanan and PJ Moore haven't spoken in several years. In a weird way they were speaking to each other through my documentary.
It's really nice to hear Paul praising PJ in the programme saying "no one will ever play a Roland the way PJ did in the studio etc. PJ also seemed to have better idea of what was achievable; Paul quotes him saying that the second record couldn't be done in the short time frame in which the record company wanted it delivered.
On the subject of a reunion. Paul quotes PJ in the documentary, saying that "they made each other too nervous in the studio." He agrees.
Paul Buchanan's last album got rave reviews, I think it was as good as any Blue Nile record, maybe better than the last two (Peace At Last and High).*
This new record from Paul is very different in that I believe it has a band sound. There was some confusion when BBC 6 Music said a Blue Nile record was planned after Paul spoke at that panel in Glasgow.
I have no information about whether it's a going to be released as a Paul Buchanan album or under the Blue Nile title. There's a whole discussion you could have about it, if PJ and Robert don't want to perform as The Blue Nile anymore, and Paul wants to, could The Blue Nile name be used?
It doesn't for a moment diminish PJ or Robert's contribution in the past. I can remember seeing Prefab Sprout playing in Dublin without key members, and Jeff Lynne tours as ELO. I suppose we will find out in time. I don't know either way.
What impact did The Blue Nile have in Ireland?
People in Scotland seemed surprised that Irish radio commissioned my documentary. I'm delighted really because The Blue Nile always had a special relationship with Ireland.
PJ Moore summed up The Blue Nile in Ireland to me recently. He said that unlike the London music business where The Blue Nile hadn't worked… Ireland was different, PJ said "The cogs turned for The Blue Nile in Ireland".
Radio guys, like Mark Cagney played their music on late night radio, mainstream DJ's like Gerry Ryan, heard it and liked it and started playing it on daytime radio.
If you look on YouTube you can find clips of Paul bring interviewed on Breakfast TV in Ireland by Mark Cagney who as a late night DJ was one of the first people to play The Blue Nile.
PJ says The Blue Nile were embraced by everybody in Dublin who understood what the Blue Nile were trying to do. The band moved there for a while.
Paul talks about the band deciding to leave Dublin but the night before they left, they had a drive around Stephen's Green, and changed their mind and stayed in Dublin for another six months.
One of the sweetest messages I got talking about The Blue Nile on Irish radio was from a guy who rang in to say he had been a young barman in a pub on Baggot Street. .
He remembered these three unassuming Scottish guys chatting to him one night at the bar, asking him about himself, his life and his family, and when he asked them about themselves, they told him they were in a band he would never have heard of…
But years later, he now knew all about The Blue Nile and their records and remembered that night in the bar.
Was there anything you left out of the documentary?
There were other people, I interviewed like RTE's Cathal Murray, Dave Fanning, Dan Hegarty and the TV producer Dave Heffernan I interviewed but there just wasn't the room to include, and I wasn't going lose Paul or PJ talking about the recording of Hats to include them.
The Irish actor Liam Cunningham from Game Of Thrones, I interviewed and I couldn't squeeze in either. He's so evangelical about The Blue Nile but had never met them. I sent the audio of Liam's interview to Paul, and Paul rang him up in Dublin to thank him. Which must have been an incredible call for Liam to get.
If I'd had more time, I'd love to have got Billy Sloan, the Scottish journalist and presenter into the doc.
But I ran out of time, on my last day, he was the opposite end of Glasgow. I wouldn't have made my plane but he provided me with some valuable insight on the band, and was a huge supporter of The Blue Nile.
The documentary was recorded in Dublin and Glasgow, I'd like to say thanks to Frank Kearns at Salt Studios for his help putting it together.
Can we expect more documentaries from you Ken? Are there other band stories you would like to tell?
I've had some Irish bands contact me since, asking me would I make a similar radio documentary about them. But my heart wouldn't be in it… and the story of The Blue Nile can't be matched.
They were in operating at this crazy time when record companies were selling double – as people bought their entire vinyl collection again on CD.
You can see why there was pressure on The Blue Nile to come up with a second album and a third album.
In Search of The Blue Nile will be broadcast on BBC Scotland at 4pm on 17th April.

* Love it, but can't agree - and we're still waiting for the expanded version of High. Just sayin'...